Under Construction –
Current rector:


The Reverend David E. Taylor joined Trinity in December 2013. He and his wife Angie and their 4 children…. 
Recent rectors:

We were very fortunate to have a member

of our own congregation come out of

retirement to serve as our interim rector. 

The Reverend Ron Johnson (self-proclaimed "new guy') brought his

quick whit, wonderful

sense of humor, and fantastic sermons to

help our church family through the transition period as our Search Committee and Vestry did the hard

work

that lead David to us.
The Reverends John and Rachel Gardner (bottom left) served Trinity Church from 2006-2012, where they shared a full time clergy position. Their children are Boyden (center) and twins Connor (L) and Quinn (R). They left Trinity in August, 2012 to move to Colorado. Trinity benefited in countless ways under their leadership, not the least of which was: numerous improvements to the campus infrastructure; recruitment of our very talented choir director and organist, Jerry Blankenship; participation in several outreach activities, such as Church's Concern for the Homeless; organization of fire wood donations to the needy to heat their homes in winter; Participation in Kroger's program to donate a % of patron's purchases to local charity needs; and last but not least, the growth of our parish family, plus the sound financial standing of Trinity's campus upkeep & business activities.
 
Pictured to the right is Reverend Karin Lendsay, who served as Trinity's rector from 1993-1998. This site will offer additional info about Karin and other past rectors soon.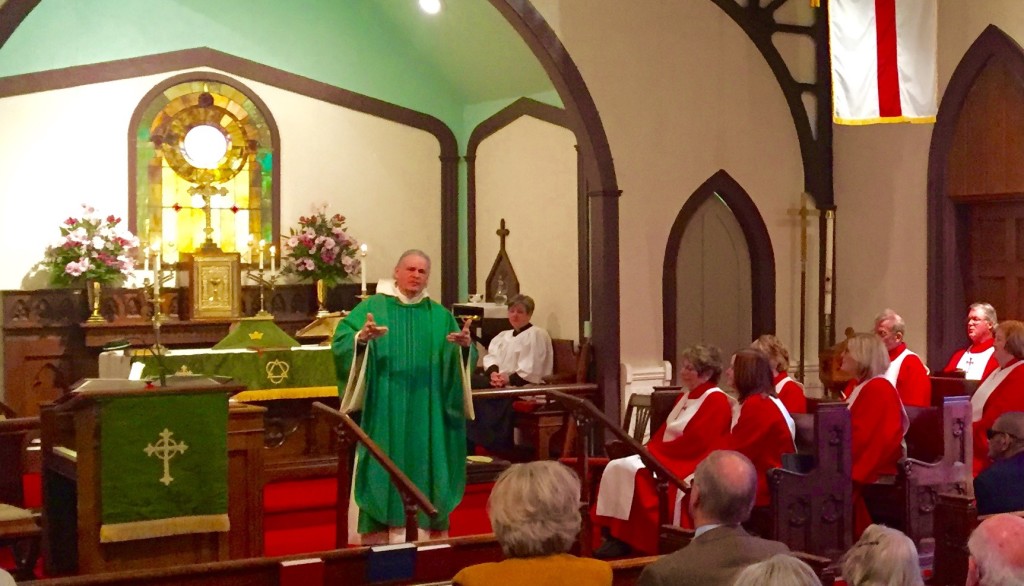 On occasion, Father Dan Riddick (pictured bottom left) also comes out of retirement when Father David must attend to other church matters.

 Father _______, pictured bottom right, served as interim rector from ___ – ___.  He still supports Trinity at funeral services where he plays 'Amazing Grace' on the bag pipes for the internment of loved ones.